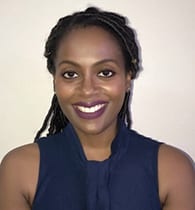 MS. JANELLE THOMPSON CEO
Ms. Thompson currently holds the position of CEO, as well as overseeing the marketing and communication aspects of the organisation. She plays a major role in the organising and hosting of the conference and is the external voice of the association. She brings to IAC a new outlook and vision in the areas of Marketing, Communications and Image Building. Ms. Thompson holds a Masters in Science Degree in International Relations from the University of the West Indies, St. Augustine Campus and a Bachelors in Science Degree with honours in Sociology and Political Science from the University of the West Indies, Cave Hill Campus.

ANDRIA CLARKE PROJECTS & RESEARCH OFFICER
Ms. Clarke holds a Master's of Science degree in the area of International Management and a Bachelor's of Science Degree (Hons) in the field of Political Science minoring in Public Sector Management from the University of the West Indies Cave Hill Campus. In addition to this, she has an Associate Degree in Political Science and Law from the Barbados Community College.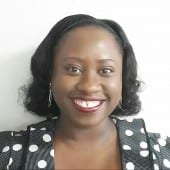 MRS. CHARMAINE FORDE B.D.I ADMINISTRATOR
Charmaine Forde joined the IAC in July, 2015 and is responsible for the administrative duties of the Secretariat. She is bringing to the association 17 years of experience from the General Insurance Industry and holds a Diploma in Insurance from the Insurance Institute of Barbados (IIB). She has successfully completed the Certificate of Proficiency (COP) and was awarded The Carl Moore prize for the highest marks in Property Insurance. Mrs. Forde was previously an Underwriter at a reputable insurance company who were agents for United Insurance Company Limited and within recent years Harmony General Insurance.